Ordering food with the convenience of an app is all the rage right now. If you are a developer who is serious about taking advantage of this opportunity you will definitely want to read this article for tips on how to make the best food delivery app that will stand out.
Food Delivery App Growth
Between work, school, commuting and tending to various other obligations, people don't have much time to cook. Food delivery saves them time, allowing them to keep up with their busy schedules.
Plus, compared to a sit-down restaurant, ordering food is a more cost-effective way to try new meals.
Based on those two reasons alone, you can understand why food apps are so popular right now. But the competition is fierce. It can be hard for new businesses to compete with already established names like GrubHub and DoorDash.
With a little hard work, you can still make a great restaurant delivery app that stands out. But first, let's go over the basics that every food delivery app needs.
How To Make A Food Delivery App
Do your research
Before developing the app, you must investigate what the market wants and how to beat the competition.
Determine your target market and conduct research on them. Those who use food ordering apps are most likely busy with work or school, but there is so much more you need to learn about them.
Besides market research, you should also check out the competition. Consider what makes them successful and helps them stand out, but be sure not to copy what they have already done.
Researching your target market, as well as the competition, is an important step that should be carried out for any app, not just those that belong in the food delivery category.
Start Creating
Now that you've researched, it's time to bring your ideas to life with technology.
Your choice of technology will be affected by:
Budget;
Platform,
Desired Features.
The end result should be an app that runs smoothly, is visually appealing, and is easy to make payments and orders with.
Some features a food delivery app should have include:
Access to GPS on a user's device;
Information about the restaurant's menu and prices;
A navigation system to provide directions to those picking up and delivering the food,
Notifications to keep the user informed on the status of the order (Order confirmations, order dispatched…).
Ideas To Get Your Food Delivery App to Stand Out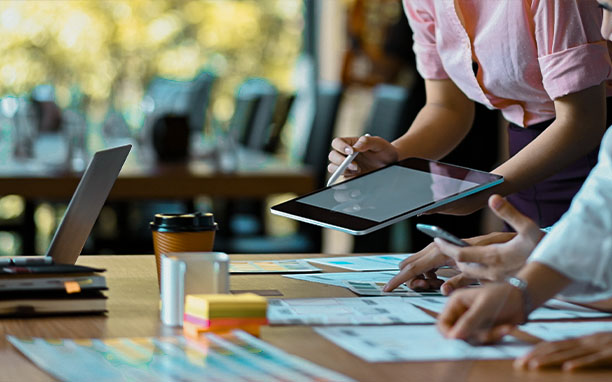 So you know the basic features your delivery app should have. But how about making it stand out? Here are some ideas to get you started.
Push Notifications
Push notifications are highly effective tools to increase user retention. They can be used for any app, not just food delivery apps.
Using geolocation, your app can notify users of where their order is in the delivery process and give an estimated time of arrival.
In addition, push notifications can be used to send out promotions regarding deals and sales that are in the area. Just be sure not to send too many promotional messages.
Social Media
This is another feature that works well for any type of app, even those outside of the food category.
Integrating with social media has several benefits for users and include:
A quick and easy onboarding process,
The ability to share their preferred foods with friends and subscribers.
Blockchain
With so many people concerned about food quality and origin, this feature would be very useful for food delivery apps. Blockchain technology can track where food came from so that users can choose to only order foods that are organic, eco-friendly, and ethical.
Drone delivery
Okay, this might sound crazy, but Amazon is already preparing its own drone delivery service. Some users would love to have their food delivered via air to prevent their orders from getting stuck in traffic jams and getting cold. But this idea might have to wait for the future.
Food ordering apps are more than just a passing trend, they are here to stay. So take what you learned from this article to start creating the best food delivery app that will stand out in the app store!
And if you want more help with your app, get in touch with a specialist from RankMyApp.